ORLANDO | Couples of all ages desiring to renew their commitment to one another and the Sacrament of Marriage filled St. James Cathedral in Orlando Feb. 9, a prelude to World Marriage Day. Bishop John Noonan spoke to them about their great witness of love and blessed them as the couples renewed their vows. Originally celebrated as the part of the Diocese of Orlando's 25th anniversary, the formerly named Wedding Anniversary Mass, honored marriages of 25 and 50 years. Recognizing the importance of each anniversary as a call to Sacrament, a covenant of fidelity with God, the celebration was renamed Mass for Marriage in 2017.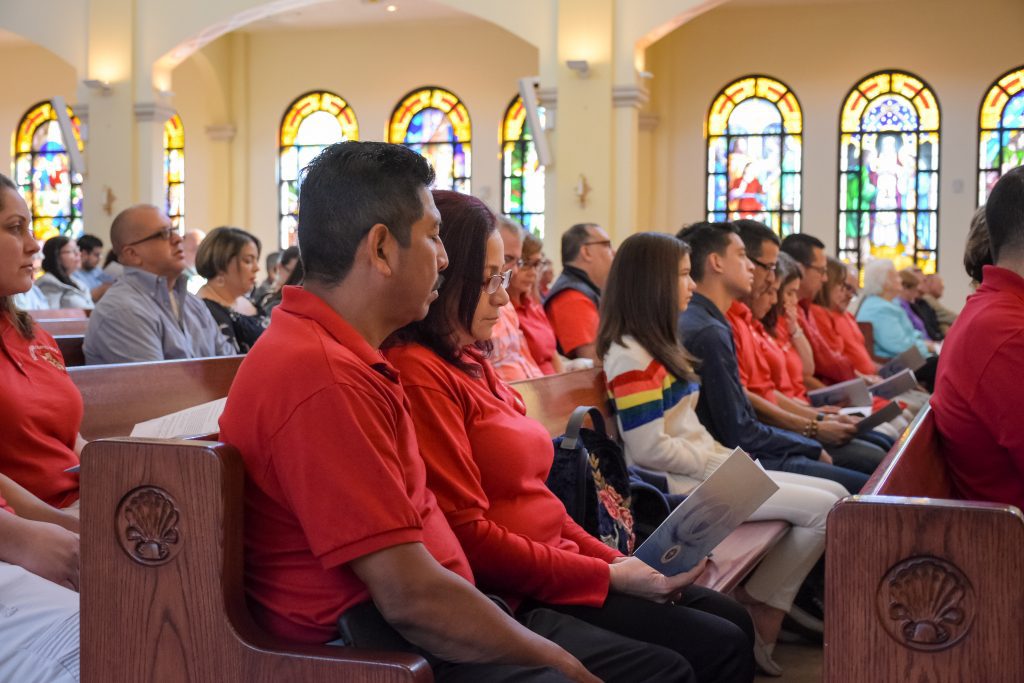 For many couples, the Mass is a significant annual event. Tomás and Mercedes Díaz have participated for four years. Married in August 1976 in Guacara, Venezuela, Tomás says they attend "first of all because we believe in marriage. It also renews the commitment we made to Jesus when we were married. It gives us great joy to see the couples who have been married 50, 60, 70 years and still love one another."
"They are holding hands, standing close, like love birds. It fills us with joy," notes Mercedes. "They're an example for us. We see that we can persevere together until the Lord calls us home," adds Tomás.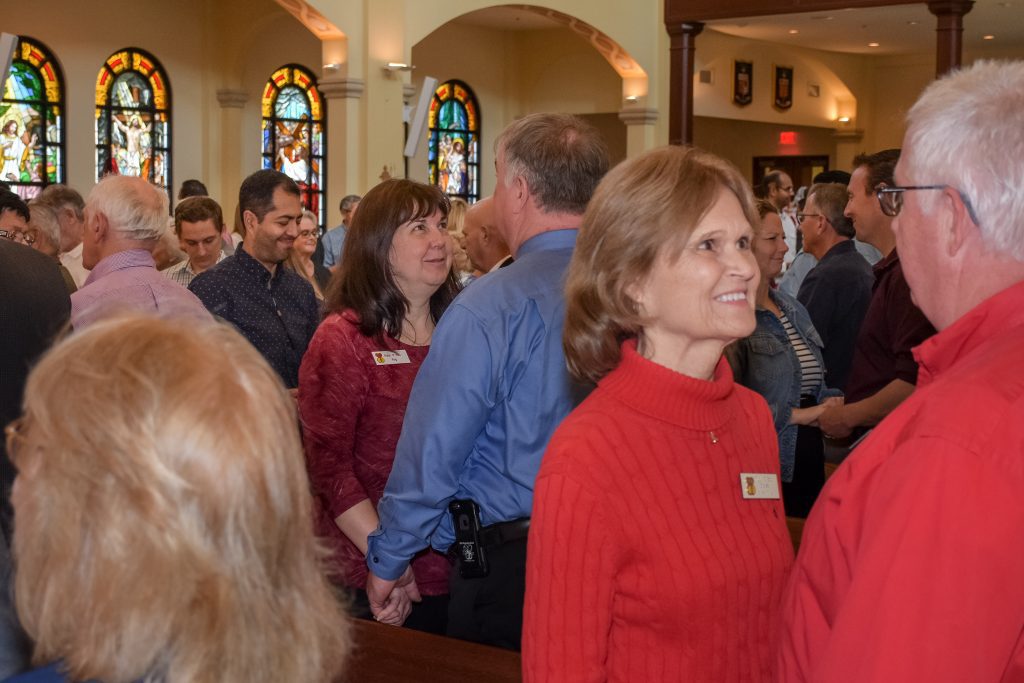 Married 42 years, the Good Shepherd parishioners keep the spark in their marriage by participating in World Wide Marriage Encounter (WWME). In 2002, they noticed their marriage becoming monotonous. "We were stagnant. Our conversation was about the house, the children and work," recalls Mercedes. Then a pastor at their local parish in Venezuela spoke about World Wide Marriage Encounter. Tomás was not keen on the idea, but agreed to go. "That is where I came to understand the time we had wasted… not being in that full union," he said. In gratitude to God, they joined the WWME team in 2005 and eventually became presenters. They moved to the U.S. in 2009 and picked up their service once again, now leading Spanish retreats.
"Our first weekend, we came to know ourselves better and each other. It gave us a chance to speak about topics we had never before broached," said Mercedes. "We realized what the Sacrament of Marriage is—that to love is a decision."
"I can say that I have the love of God, but if I choose not to love my partner each day, then I do not have the love of God within me. All that helped us decide to make our marriage a priority, before home, children and other things. That has helped us maintain our vibrant relationship and keep the flame of love ignited."
Reordering priorities is what brought Marco and Michelle Robles of Most Precious Blood Parish to the special Mass for the first time. Married five years ago, Marco said, "I thought it would be a nice opportunity to spend some time with my wife. We've kind of gotten in the habit of just going day by day with our 2-year old, so having a chance to refocus on each other was a great opportunity." He added, "It helped us see how far we've come in just those five years, but also prepare for hopefully many, many more years to come. Seeing how much our faith plays a role in a successful marriage, to have that partner be there with you and help you be accountable and to share in your faith, helps you be able to work out those hardships and things that, in today's society, drive couples apart." He noted that seeing so many strong marriages "gives us something to strive toward."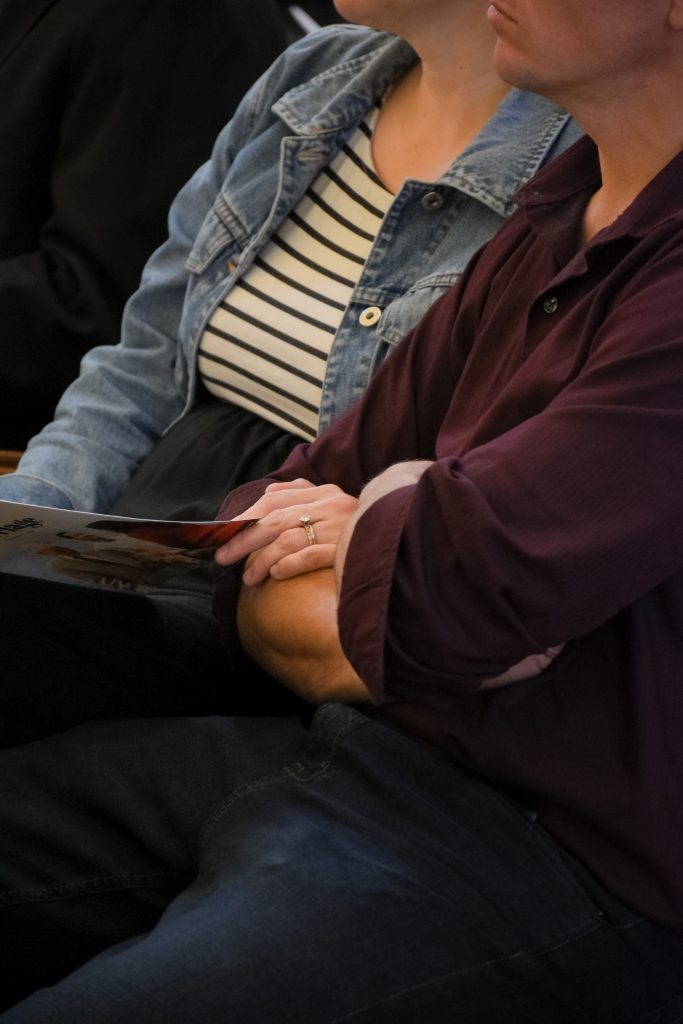 Paul and Robin Ring were married at Divine Mercy Parish in Merritt Island in 1984. It is still their home parish. For the last three years they have made the drive to Orlando to "honor the Sacrament of Marriage," says Robin. Both are also involved in marriage ministry through WWME. As leaders for the Central and Northeast Florida region, Robin says WWME has helped "keep our relationship a priority and allows us to communicate openly and honestly."
Paul explained, "Before marriage encounter, I pretty much kept everything inside. Going to marriage encounter helped me express my feelings to Robin so she's not guessing."
The retreat was a 25th anniversary gift to themselves much like each vow renewal at Mass for Marriage. It is something they do to strengthen their bond, but happy marriages take work and that is why the Rings have stuck with WWME. "It's helped me get to know myself and Paul better," said Robin. Paul likes that "We're not just communicating on a superficial level."
Both the Díaz and Ring families agree improved communication has been integral to their success as a couple. "You have to be able to understand yourself and be able to share that," said Robin. The couples agree that sharing feelings more openly, in a loving and respectful way has helped them fend of difficulties down the line.
"This is worth it. We are many couples who believe in marriage and in the daily struggle to remain the best couple we can be, with God," said Tomás. "As the bishop reminded us, we should be the sign of God's love on earth."
By Glenda Meekins of the Florida Catholic – February 11, 2019