"How numerous, O Lord, my God, you have made your wondrous deeds! And in your plans for us there is none equal to you. Should I wish to declare or tell them, too many are to recount." Psalm 40:6
<! ========= Cool Timeline Free 2.7.1 =========>
Chronology
Sisters of St. Joseph of St. Augustine arrive to serve parish school
A mission parish of St. James is established
To accommodate the increasing number of tourists coming to Winter Park a mission parish of St. James was established in 1921 with a formal opening in 1925 and a dedication in 1927. This was St. Margaret Mary Parish.
Opening of New St. James School
The new St. James School was opened on Ridgewood/Cathcart/Hillman Avenues. It accommodated grades K-12. Students now used this school instead of the Academy building.
New Convent Built
A new convent was built next to St. James School for the Sisters of St. Joseph of St. Augustine.
Land sold to the U.S. Treasury Department
Due to the difficulties of the depression years the church was heavily in debt. The decision was made to sell to the U.S. Treasury Department the property that formally housed the St. Joseph Academy and Convent buildings. They built a Post Office and Court House on the site.
St. Margaret Mary Becomes Its Own Parish
St. James mission parish, St. Margaret Mary, is named as its own parish
Addition of a New Parish Center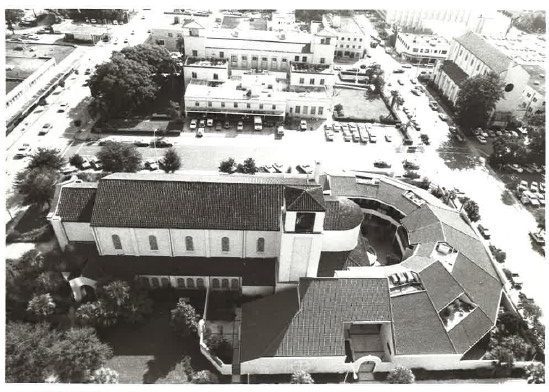 Construction and dedication of a new fan-shaped parish center including parish offices and meeting room. The old rectory on the south side of the church bordering Jefferson St. was demolished to make room for the new building. 
1980's   Additional renovations were made to the building including the installation of a new pipe organ. 
Renovations to Cathedral Building
 A  major renovation and reconstruction project of the Cathedral building was undertaken.
Celebrates 125 Years!
St. James celebrates 125 years as a parish.